John Pring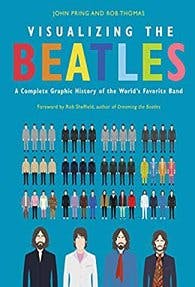 John is an entrepreneur, designer, writer, poet and musician. He has degrees in Professional Musicianship from the University of Sussex, and Film and Television from the University of Wales, Aberystwyth.
John is one of the Directors of Designbysoap Ltd, a renowned content development agency working for brands such as IBM, Discover, Ford, Yahoo, PayPal, Google, the UN, the European Commission, the Bank of England and many more.
John also runs a popular poetry account on Instagram under the name AnotherEnglishPoet, and is currently working on a bespoke poster series which he plans to launch on Kickstarter later this year.
Visualizing The Beatles: A Complete Graphic History of the World's Favorite Band: A Complete Graphic History of the World's Favorite Band
Dey Street Books, 2018
Coauthored by: Robert Thomas