Nadia Lopez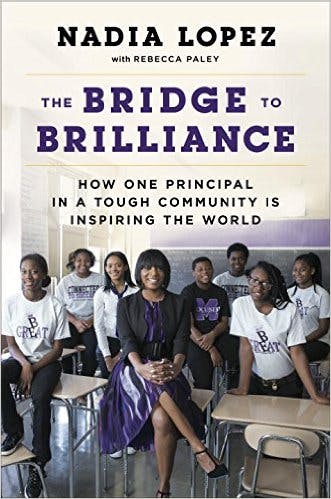 The inspirational account of the creation of a pathbreaking inner-city middle school in Brooklyn, New York, by the magnetic young principal who rocketed to national fame via Humans of New York
When thirteen-year-old Vidal Chastanet told photographer Brandon Stanton that his principal ,"Ms. Lopez," was the person who most influenced his life, it was the pebble that started a whirlwind for Nadia Lopez and her small, new public school in one of Brooklyn's most wretched communities. The posting on Stanton's wildly popular site Humans of New York (HONY) went mega-viral. Lopez—not long before on the verge of quitting—found herself in the national spotlight and headed for a meeting with Obama, as well as the beneficiary of a million-dollar IndieGoGo campaign for the school. Here is her first-person account of what it took to get to that moment.
Mott Hall Bridges Academy isn't just a hallway inside a typically underserved public school in one of New York City's most underprivileged communities—it is a school that glows with energy and excitement. Lopez tells the kids every day that they're extraordinary and that she loves them. When trouble stirs, she asks: "Would I have been proud to see what happened in that classroom? No? Then why did it happen?" She tells her teachers: "Don't tell me our scholars can't learn; because if you can't teach them, then I'll come teach your class for a couple of weeks."
Everything was an uphill battle—to get the school launched, to recruit faculty and students, to solve a million new problems every day, from violent crime to vanishing supplies, but Lopez illustrates how leadership often means just picking the right people to support you. In middle school, one year lost with an unengaged teacher is a year that can send a kid down a terrible path. And then, of course, there is the educational system itself, how "teaching to the test" is an enormous problem, particularly in schools with kids who are already disadvantaged and underprepared.
The Bridge to Brilliance is a book filled with common sense and caring that will carry her message to classrooms far from Brooklyn. As she says, modestly, "There are hundreds of Ms. Lopezes around this country doing good work for kids. This honors all of them."
Nadia Lopez is the founding principal of Mott Hall Bridges Academy, a model for quality education in an innovative learning environment. She has been Profiled on NBC, NPR, and The Ellen Degeneres Show and in the New York Times and the Atlantic. She is the recipient of the 2015 Black Girls Rock Chane Agent Award and the 2015 Barnard College Medal of Distinction Awardee.
Rebecca Paley is a journalist and collaborator, who has worked on several major books including the New York Times Bestsellers I'll Drink to That by Betty Halbreich, In The Water They Can't Hear You Cry by Amanda Beard, and Fairy Tale Interrupted by Rosemarie Terenzio.
THE BRIDGE TO BRILLIANCE: How One Principal in a Tough Community is Inspiring the World
Viking, 2016