Shannon Sanders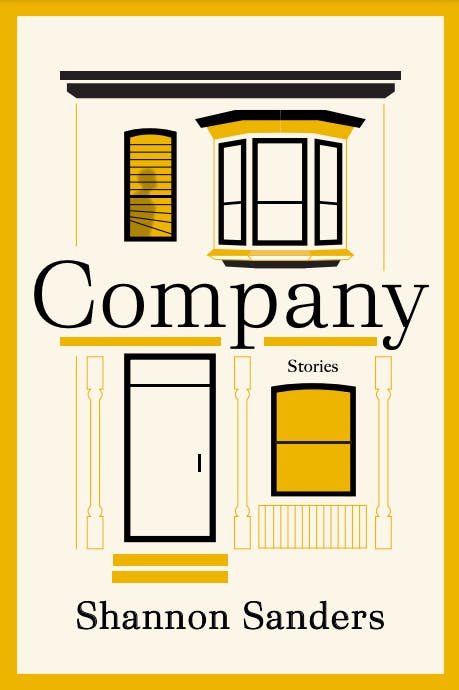 A richly detailed, brilliantly woven debut collection about the lives and lore of one Black family
Shannon Sanders's sparkling debut brings us into the company of the Collins family and their acquaintances as they meet, bicker, compete, celebrate, worry, keep and reveal secrets, build lives and careers, and endure. Moving from Atlantic City to New York to DC, from the 1960's to the 2000's, from law students to drag performers to violinists to matriarchs, Company tells a multifaceted, multigenerational saga in thirteen stories.
Each piece in Company includes a moment when a guest arrives at someone's home. In "The Good, Good Men," two brothers reunite to oust a "deadbeat" boyfriend from their mother's house. In "The Everest Society," the brothers' sister anxiously prepares for a home visit from a social worker before adopting a child. In "Birds of Paradise," their aunt, newly promoted to university provost, navigates a minefield of microaggressions at her own welcome party. And in the haunting title story, the provost's sister finds her solitary life disrupted when her late sister's daughter comes calling.
These are stories about intimacy, societal and familial obligations, and the ways inheritances shape our fates. Buoyant, somber, sharp, and affectionate, this collection announces a remarkable new voice in fiction.
Praise for Company:
"Sanders excels in this masterly debut collection about a Black extended family and their triumphs, problems, and secrets. . . . She also exhibits great care and love for them, describing their slights, heartaches, and misbehavior with exquisite emotional acuity. This is a winner."—Publishers Weekly, Starred Review
"Sanders' remarkable, aptly titled short-story collection centers around a compelling Black family and the varied company it keeps...The characters throughout are expertly rendered and deeply relatable...Sanders' stories are unforgettable, making this a strong and promising debut."—Booklist, Starred Review
"Subtly crafted. . . . The difficult aspects of negotiating family relationships are gently examined but, more interestingly, respected in their recounting. The complicated circuitry behind family alliances and breakdowns is artfully revealed."―Kirkus Reviews
"Sanders writes with such courage and complexity. She has a masterful grasp of characters, pacing, and plotting.Companyis a delectable debut."―Debutiful's "Most Anticipated Debuts of 2023"
"Company introduces an unforgettable cast of characters who remind us that family can be both wound and salve. Sanders gorgeously captures both the exuberance and exhaustion of contemporary Black life and offers sharp and original insight into the intimate politics of race and class and the impossible rules we've inherited to navigate them. This is a brilliant and immaculate debut."—Danielle Evans, author of The Office of Historical Corrections
"Shannon Sanders's stories simply blew me away. The Collins family and the many folks in their orbit are endlessly fascinating, frustrating, and fun to meet on the page. Company is a riotous, dazzling debut that is as profound as it is entertaining."—Deesha Philyaw, author of The Secret Lives of Church Ladies
"Company is a story collection that eats like a novel. Each story feels like a completely different vision of the same majestically sprawling family, as these neurotic high achievers struggle to balance the duties of kinship, social appearances, and honesty to their true selves. Reading Shannon Sanders makes me want to visit home."—Tony Tulathimutte, author of Private Citizens
"If love is a many-splendored thing, family love is a little more complex: sometimes spluttery, sometimes splintering, often served up with a side of spleen. The extended clan Shannon Sanders conjures in Company is fully alive—and very funny!—recognizable but wholly new, and to read their stories is to get the gift you don't always get from your own family: the feeling of being seen."—Will Allison, author of Long Drive Home
"Assured and incisive, this collection hums with the dark comedy of striving and speaks the inconvenient necessity of affiliation as it unravels the complications of belonging. In Sanders's hands, the company we keep is always going somewhere and yet never far away, shrewd, petty, and full of longing. This clear-eyed debut brims human."—Tracy O'Neill, author of Quotients
Shannon Sanders is a writer and attorney. She was selected as a 2020 winner of the PEN/Robert J. Dau Prize for Emerging Writers (judged by Tracy O'Neill, Nafissa Thompson-Spires, and Deb Olin Unferth) for her short story "The Good, Good Men," which appeared in Puerto del Sol's Black Voices series and was later reprinted in Best Debut Short Stories 2020. Her short fiction has appeared in many publications, including One Story, TriQuarterly, Joyland, Electric Literature,SLICE, and Strange Horizons. Shannon was a finalist for One Story's 2019 inaugural Adina Talve-Goodman Fellowship. She was selected for, and workshopped at, One Story's Summer Writers Conference under Will Allison, StoryStudio Chicago's StoryBoard conference under Danielle Evans, and CRIT under Tony Tulathimutte. She lives near Washington, DC with her husband and three sons. She is at work on a novel.
COMPANY
Graywolf Press, 2023